It's been a minute since I've been able to update you! As I mentioned in Friday's post, I was intending for this to be my first post since my hiatus, but of course shit happened which I had to talk about! Anyhoo, many apologies for my lack of writing! I've been caught up with assignments and trying to get healthy around that.
So where do I start??
I've had a hair cut!
And I fuckin' LOVE IT! I've wanted to do it for years, but I've always been too scared. This is when I realised that I attached waaaay too much of my beauty and confidence to my hair, so I finally decided to have it cut before my birthday in July.
My yoga classes took a break over summer, so in the interim I've been going to the gym; I've found a great one local to me, part of the Energie Fitness chain. Membership is really cheap and you're not bound to a contract either so you can cancel any time. I've always been a little bit petrified of gyms; full of super fit people, I often felt like as soon as I walked in, people would be staring in shock at how unfit I am (not caring that I haven't always been like this), especially when I get on the crosstrainer LOL. But of course it's not like that; everybody''s in the zone, doing their own thaaang and I've actually become quite addicted to it! It's not only great for physiology, it's also great for mental well-being. Plus it gets me out of the house so I'm winning on all fronts.
My body is also getting to used to my new AEDs (anti-epileptic drugs), Lacosamide. So I'm only on 100mg twice a day at the moment, finally off Keppra (wooooooo). But, when I first started on Lacosaminde, I developed a strange side-effect of urinary incontinence. Imagine my horror at the age of 32, suddenly leaking and having to purchase incontinence pads! I'm not ashamed to admit that I did cry a little and the only advice my Epilepsy Nurse could give was go to the internet, while my GP advised me to go to the toilet more. The latter only helped with the fact that as well as leaking, I was always bursting to go. It didn't help with the leaking in between go's. However, it seems to have finally settled down… until my next dose increase I guess….
Other than that, my epilepsy seems to be responding to the medication. I've had four seizures in almost two months which is INCREDIBLE!
Don't get stressed
Another piece of advice my GP gave me was "to not get stressed" in order to reduce the seizures; people do not seem to realise who fucking annoying it is to hear that, as if we look for stress. For fuck sake.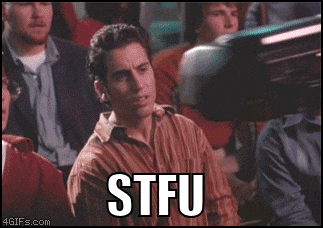 However the GP did give me some good advice in terms of what I focus my energy on. At first what she actually said was that I didn't have a focus and when I challenged her on that considering it was only the first time we'd ever met, she then rephrased: be careful what you focus your energy on. With this in mind, on Tuesday I saw my therapist and she said something very similar. She noticed that I tend to focus a lot of my energy on what other people are thinking about me and what they're doing, very futile things. Instead of doing this, what I should be doing is focusing on myself: my journey of self-discovery, and what I'm doing now, in the present (Gestalt therapy is great for this, focusing on the present, being in the present).
Guilt and shame
I also don't give myself enough credit for what I'm doing or who I've become: I'm a highly intelligent and incredibly creative woman. When I put my mind to something, I do whatever it takes to get there and I think that sometimes I give the people around me more credit for that than myself. My therapist told me that she's observed that I carry a lot of guilt and shame, which is why I don't like admitting the positive things that I've accomplished. And I think she's bang in with that observation considering the psychological abuse I was subjected to all of my life. As a child and adolescent, although I was ambitious I was also very submissive and scared to rock the boat because I would be second-guessed and put down, so I would bend and sway to the music of others. A lot of this was also in seeking approval and validation from the people around me, whether they be on social media or real life, be they white, black and my family in particular.
Furthermore, guilt and shame is generational: many Black women before me have been prohibited from speaking out, speaking up and drawing attention to themselves, for fear of being shamed or bringing shame to the people around them. They've been forced to retreat into themselves which is a behaviour they've passed onto us, their daughters and granddaughters.
Now I'm going out on my own, drawing a lot of attention to myself and although at times I'm soaring high, I also doubt myself and look down at the ground beneath me, looking for reassurance but also scaring myself shitless. When what I should be doing is focusing on what I am doing, not what is happening around me.
I felt like I needed to share this epiphany with you all, because I've been trialling this new mindset since my therapy session and although at times it's incredibly difficult, it is also incredibly liberating. In a way, I had already started the process when I stopped making YouTube videos a few months ago; I was responding to every single negative comment especially and with all the negative I get on Twitter sometimes, I was really taking the opinions to heart, allowing them to beat myself up. When I first decided to stop, it was to protect my mental health, but now I realise it's about me focusing on what's important: me and what I'm doing. My videos were not only a critique on the institution and society; they were a celebration of the person that I've finally learnt to embrace. I've also learnt not to respond to everything on Twitter, because it's not only taking the focus away from what I do on social media, it's also taking my focus away from myself.